About The Fabric Boutique
The Fabric Boutique is an independent fabric, haberdashery and sewing pattern boutique located in the historic market town of Ashby de la Zouch, Leicestershire.
A light and spacious shop located on Market Street, The Fabric Boutique stocks predominantly dressmaking fabrics with an ever growing collection of crafting and quilting fabrics.  Fabrics are laid on the shelves in colour to help customers build a wardrobe…for example, a printed fabric may be placed on a plain suiting fabric to show how a top may look when made up next to a skirt or trousers. Of course, no sewing project is complete without patterns, haberdashery, notions, lining and interfacing – all of which can be found at The Fabric Boutique.
All fabrics and haberdashery is of the highest quality and carefully sourced. New fabric arrives most weeks, with some of it being ex designer deadstock. There is always a great choice!
Why not visit our warm and welcome shop and make the most of what Ashby has to offer? Enjoy lunch in one of Ashbys many cafes, bars and restaurants, followed by a wander about the various  independent boutiques and salons that weave in and out of Ashbys Mews and courtyards. Perhaps spend an afternoon visiting Ashby Castle or the outdoor pool – the only Lido in Leicestershire! We look forward to welcoming you soon!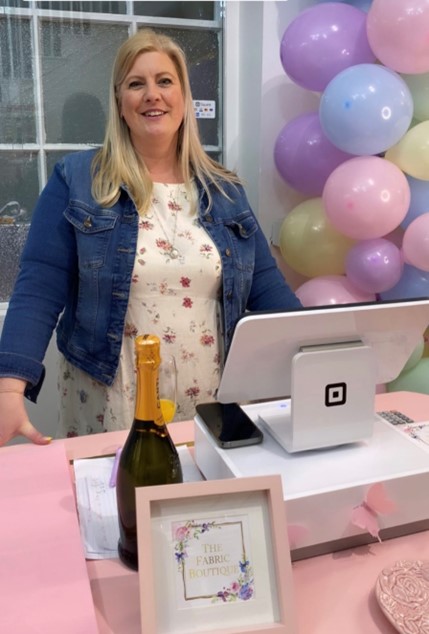 Hello! I'm Emma and I'm the owner of The Fabric Boutique. I opened the shop in January 2023, having managed a fabric shop for 4 years. Listening to many of our customers, I understand the need for many shoppers to be able to see the fabric and feel it! The whole experience of shopping in a fabric shop is very much part of the sewing journey – it's a hobby in itself! Many of our customers also value shared knowledge and advice that is always on hand.
I learnt to sew at a very early age, having been taught and encouraged by my mum, who made many of our clothes. By the time I was a teenager, I was making most of my own garments. I'd be inspired by the what was in the shops and recreate it! At the age of 18 I studied Art Foundation before going to University to study Fashion/Textiles BA (hons) where I specialised in printed textile design.
With a busy lifestyle (I am married with 2 children, a dog and a cat), I feel at peace when I'm locked away in my sewing room.  It's my happy place and my retreat! I also love buying fabric – it's a whole separate hobby…am I right?!
Happy Sewing!
71 Market Street
Ashby-de-la-Zouch
Leicestershire
LE65 1AH